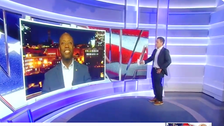 Brian Kilmeade grilled Sen. Tim Scott (R-S.C.) about his relationship standing amid GOP donor considerations in regards to the presidential candidate being single. (Watch the video under.)
In a Fox Information clip shared by The Recount on Monday, Kilmeade referred to an Axios report citing unnamed sources that say Republican contributors are requesting particulars of the senator's private life to weigh how a lot to assist him.
"What is your status?" Kilmeade requested Scott on Fox Information' "One Nation" present Saturday.
"At this point I'm taken," Scott replied. "I have a wonderful girlfriend and we have a wonderful relationship. The good news is, God has blessed me with a smart Christian woman. … But more importantly is why are the headlines there. The headlines are there because, as I rise in the polls, as people show up at my town halls, it scares even my opponents. Everybody wants to find a way to win this race. I'm going to focus on having an optimistic, positive message … and staying focused on the American people, who say they like me a lot."
Unmoved by Scott's try to shift the interview, Kilmeade mentioned: "We met your mom. Will we meet her? Will we meet your girlfriend?"
"You will, of course, at some point," Scott mentioned.
Whereas the dishy nature of Kilmeade's questioning may appear a tad private, Axios famous that People haven't elected an single president since Grover Cleveland 139 years in the past. (He later married whereas within the White Home.)
"To suggest that somehow being married or not married is going to be the determining factor of whether you're a good president or not — it sounds like we're living in 1963 and not 2023," Scott mentioned in Might, per Yahoo.