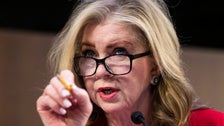 Sen. Marsha Blackburn (R-Tenn.) is coming beneath hearth for a weekend tweet about "the left" that was shortly debunked.
As People deliberate their Labor Day barbecues and cookouts, Blackburn on Sunday falsely claimed "the left" goes to remove a key a part of the day:
Nobody is making an attempt to remove grills.
Earlier this 12 months, fee member Richard Trumka Jr. stated "products that can't be made safe can be banned" when discussing the stoves, however later clarified that banning gasoline stoves hasn't been proposed and that any future laws could be for new products only.
CPSC Chairman Alex Hoehn-Saric was much more direct.
"I am not looking to ban gas stoves and the CPSC has no proceeding to do so," he stated in January.
That hasn't stopped GOP lawmakers from claiming there's an effort to ban the stoves.
Equally, there's no effort or proposal to ban outside grilling, however that hasn't stopped Blackburn from claiming in any other case.
That acquired her critics all fired up: