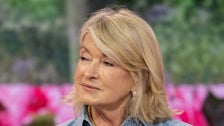 Martha Stewart left a bitter style in some critics' mouths with an Instagram submit on Tuesday that confirmed her ingesting a cocktail made with ice she steered was from an iceberg throughout a cruise round Greenland.
Following the backlash to the approach to life magnate's photos, a spokesperson for the cruise line Swan Hellenic advised HuffPost it was suspending its apply of bringing "small fragments of floating ice on board" to be examined by friends.
In a press release on Wednesday, the consultant mentioned the corporate by no means approved "any invasive acquisition that does not fully respect the polar environment in accordance with our own strict rules and rigorous industry standards."
"Regardless, we understand this can appear insensitive to the climate crisis and therefore, we will be suspending this practice with immediate effect on all ships in the Swan Hellenic fleet," the spokesperson added.
Stewart confronted a barrage of criticism over her submit, which she captioned: "We actually captured a small iceberg for our cocktails tonight."
She additionally shared photographs of a big chunk of ice on show on the vessel.
It's unclear whether or not her drink truly included ice from the piece of floating iceberg that was introduced aboard, or whether or not she was simply being tongue-in-cheek along with her remark. A consultant for Stewart didn't instantly return HuffPost's request for remark.
"I generally love Martha and the excesses of her life because she's about beautiful gardens, homes, and food, but wealthy white people drinking their iceberg cocktails while the planet is in flames is a bit tone-deaf," one particular person commented on her submit.
Added one other: "Martha the ice caps are melting don't put them in your drink."
"You should have left the ice right where it was. You have heard of global warming haven't you," wrote a 3rd.
Glaciologists performed down any attainable environmental influence, although.
"It is not like she went to a glacier and carved a piece of ice off it," Eric Rignot, a professor on the College of California at Irvine, advised The Washington Submit. "Icebergs float at sea already and slowly melt. Whether they melt in the ocean or in your glass does not make a difference."
Stewart may as a substitute have spotlighted "the beauty of the place and how sad it is to know that it is melting away," Rignot mentioned.
Ian Allison, a professor on the College of Tasmania, mentioned the influence would truly be "zero (or at least no greater than the beating of butterflies' wings in the Amazon)."
"Popping a bit of ice into a drink is no worse than taking a glass of water from a river," Allison advised the Submit.