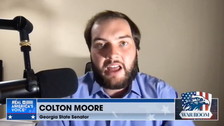 Georgia state Sen. Colton Moore, a far-right Republican, urged civil warfare may escape over the prosecution of Donald Trump in his state.
"We've got 19 people who are facing the rest of their life in prison because they spoke out against an election," Moore mentioned in a current look on Steve Bannon's "War Room" podcast.
Trump and 18 allies have been indicted by Fulton County District Legal professional Fani Willis' workplace this month over an alleged racketeering enterprise to overturn Georgia's 2020 election outcomes.
Moore mentioned he'd informed a colleague, "we've got to put our heads together and figure this out" and take motion, "because if we don't, our constituencies are going to be fighting in the streets."
"Do you want a civil war? I don't want a civil war. I don't want to have to draw my rifle," he mentioned. "I want to make this problem go away with my legislative means of doing so."
In Moore's view, he can accomplish that by defunding Willis' workplace.
In a separate interview with Newsmax, he called Willis a "domestic threat."
Since Trump's indictment, Moore has unsuccessfully been pushing for Georgia Gov. Brian Kemp (R) to name a particular session of the state legislature to analyze Willis.
"America is under attack. I'm not going to sit back and watch as radical left prosecutors politically target political opponents," the senator wrote on X (previously Twitter) earlier this month. "We must strip all funding and, if appropriate, impeach Fani Willis."
Each defendant within the 41-count indictment was charged with violating Georgia's RICO (Racketeer Influenced and Corrupt Organizations) Act, which carries a sentence of 5 to twenty years in jail.
Trump faces an extra 12 fees, together with solicitation of violation of oath by a public officer, conspiracy to commit forgery and submitting false paperwork.