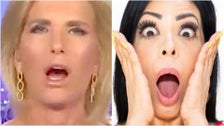 Trump was indicted once more this week ― this time for allegedly scheming to overturn the 2020 election whereas knowingly spreading lies that it was rigged, resulting in the Jan. 6, 2021, rebel by a Trump-inspired mob.
The indignation from Fox Information hosts and company is a scream.
"This is not your country anymore," Laura Ingraham declares.
"The legal equivalent of a French guillotine," former Trump adviser Stephen Miller says.
"Full banana republic," a number of proclaim, producing the pretend movie's catchy title: "Donald J. Trump: Full Banana Republic."
"From the minds who brought you January 6th, election conspiracy theories and the war on Bud Light comes a new terrifying tale," the trailer caption reads. "This election cycle, watch Fox News fall apart."