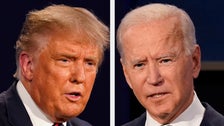 Don't count on President Joe Biden to speak in regards to the indictments of former President Donald Trump anytime quickly, MSNBC's Jen Psaki mentioned this week.
"It would be hurting them, in my view, if the president was aggressively commenting on the specifics of these trials and all of these developments," the previous Biden White Home press secretary instructed political commentator Brian Tyler Cohen on the most recent episode of his podcast.
"It makes it politicized, right? I know that Trump and his people are going to argue that, but Joe Biden does not need to interject himself into that, in this moment," mentioned Psaki.
Nonetheless, Psaki acknowledged that, "We're still in the summer of indictments" and mentioned Biden's marketing campaign "will have to and they will come up with a way" to handle the fees towards Trump if the 2024 election is a rerun of 2020.
"There is a values argument to be made, a contrasting agreement, that's where I think they go with it," she mentioned.
"I don't think he'll say indictment," Psaki added of Biden, suggesting he'd extra discuss in regards to the want for a president who'll get up for the rule of legislation and democracy.
Biden's feedback can be "obviously about the legal issues without being about the legal issues," she added.