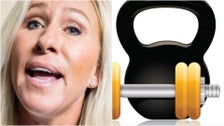 Poor Marjorie Taylor Greene. In a time of political rancor, the far-right congresswoman from Georgia on Monday tried to achieve throughout all aisles to offer stable recommendation on self-improvement.
"Working out isn't for when you just feel like it. It's work," she wrote on X, previously Twitter. "Show up whether you feel like it or want to or not. And the results will show up too."
However her critics don't give one burpee about her health club targets, they usually flexed their sardonic may to clap again at Greene.
"Imagine if you had that kind of drive for passing meaningful legislation," one wrote.
It appears mocking Greene is a straightforward raise for a lot of: