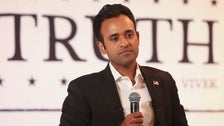 GOP presidential candidate Vivek Ramaswamy was grilled Sunday over his choice to defend Donald Trump regardless of claiming he disagrees with a lot of the indicted former president's habits.
Talking to George Stephanopoulos on ABC's "This Week," the rich businessman stated he didn't help Trump's actions throughout the 2020 election that led to the ex-president going through felony indictments. However the candidate maintained that he believes Trump shouldn't be prosecuted for such habits.
"I would have handled that situation very differently than Trump did," Ramaswamy stated of the Capitol riot on Jan. 6, 2021. "But I do draw a distinction, George, between bad behavior and illegal behavior. And once we start conflating those two things, I think we're in a long downward slide as a country."
In some 2024 polling, Ramaswamy has discovered himself among the many high Republican presidential candidates behind Trump's large lead. The 38-year-old's story will not be dissimilar to Trump's. He entered the sector as an investor and political newcomer who's self-funding his marketing campaign with an eye fixed to being a youthful and extra coherent conservative who can perform the ex-president's imaginative and prescient.
When Stephanopoulos requested on Sunday if Ramaswamy believed it was mistaken for Trump to create a slate of pretend electors following the 2020 election, the GOP candidate danced across the query by attempting to deal with his personal marketing campaign. After being pressed, Ramaswamy stated he wouldn't have nominated phony electors.
Stephanopoulos then requested if Ramaswamy believed it was mistaken of Trump to encourage his followers to storm the Capitol, to which the candidate defended the ex-president, saying Trump inspired "peaceful protest."
"I disagree with a lot of what he did that day. I said so at the time. I say so today, George. I haven't wavered on that," Ramaswamy stated. "But that is still different from saying that he should be prosecuted for it, which I think sets a dangerous precedent of First Amendment infringements in this country and sets a dangerous precedent for eliminating political opponents in the midst of an election."
Ramaswamy additionally known as Trump's indictments an "illegal prosecution," which the ABC host fact-checked by saying there is no such thing as a proof to help such a declare.
"You find his actions abhorrent around Jan. 6. You said he was wrong to take the classified information. You said you would not do that yourself," Stephanopoulos stated. "But you still say you would vote for him for president. That's what I don't get."
"What I've said is clear," Ramaswamy stated. "If Donald Trump's the nominee, yes, I will support him. And if I'm the president, yes I will pardon him, because that will help reunite the country."